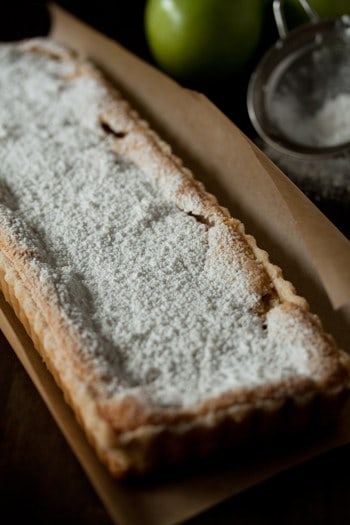 a
dapted from Julia Child
Ingredients:9-inch partially baked pie shell (I used Alton Brown's, but store bought will work just fine.)
3 cups apples, peeled, cored, and thinly sliced
2/3 cup sugar; divided use
½ tsp. cinnamon
1 egg
¼ cup flour
½ cup whipping cream
3 tablespoons brandy or cognac (this can be omitted)
1 teaspoon vanilla
Powdered sugar in a shaker
Directions:
1. Lightly spray your tart pan with non-stick cooking spray. Place your pastry dough into your prepared pan, poke holes in the dough with a fork and place the pan in the refrigerator for 15 minutes.
2. Preheat oven to 425. Remove your pan from the refrigerator and place a large piece of parchment paper on top of dough and fill with dry beans (or pie weights). Press beans into edges of dough and bake in the oven for 10 minutes. Remove from oven and allow the pastry to cool completely on a wire rack.
3. Preheat oven to 375 degrees.
4. In a mixing bowl, toss the apples with 1/3 cup of the sugar and the cinnamon. Put them in the partially baked pie shell and bake at 375 degrees for 20 minutes. Remove from the oven and let cool while making the custard.
5. Beat the egg and 1/3 cup of the sugar in a mixing bowl until the mixture is thick and pale yellow. Beat in the flour, then the whipping cream, vanilla then the brandy or cognac. Pour the mixture over the apples.
6. Return to the oven for 10-12 minutes or until it begins to puff. Remove from oven and sprinkle with the powdered sugar (lightly covering the top of the tart). Return to the oven for 20 minutes. Tart is done when the top is brown and a knife plunged into the custard comes out clean. Serve while warm.
Storage:
This tart is best served warm and on the day it was baked. Although the flavor was lovely the day after, the texture had definitely declined.
Notes:
-This is amazing served alone, but is delish with a scoop of ice cream and a little drizzle of caramel sauce.